Head to the beach this summer for life-changing seaside encounters
Many people have fond memories of sandy sandwiches and wonky sandcastles, but beyond the seasides of the UK there are beaches full of wildlife you'd never meet at home.
Paddle with pigs in The Bahamas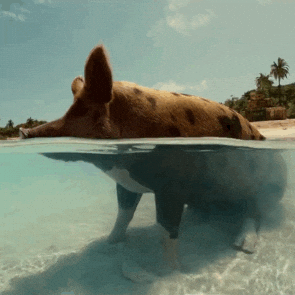 Of all the animals you might hope to encounter at the seaside, pigs might not be at the top of your list, but Big Major Cay in The Bahamas is home to at least 20, and they're always excited to see visitors. Often spotted trotting across the sand, this band of porkers don't naturally belong on the island. According to the local tourist board, they probably arrived as a food source for hungry sailors or as refugees from a wreck. Sheltered from the elements and with a supply of fresh water, these castaways have made the island their own.
Feeding the pigs has become a tradition, and the group often launch themselves into the water at the first sign of company. They swim out to greet tourist boats, hoping for a snack. Sadly, in 2017 several animals died after eating sand along with their treats. Current advice suggests tossing fruit and vegetables into the water, but the safest option is to let the pigs find their own food in the forest. If you do make a trip to the island, make sure to look out for endangered rock iguanas too. The males are at their brightest in the spring, when they put on a colourful show to attract a mate.
Sunbathe with kangaroos at Lucky Bay
Lucky Bay at Cape Le Grand National Park near Esperance in Western Australia is a kangaroo haven. Attracted to the area by freshwater springs, you'll often see these friendly marsupials lazing on the sand. There are over five kilometres (3.1 miles) of coastline to enjoy and a nearby campsite for a truly wild experience. Get up early and head down to the water before the Sun reaches its peak for the best chance of a kangaroo encounter.
Dive with penguins in Africa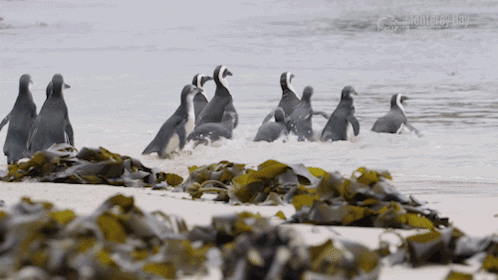 Boulders Beach in South Africa attracts 60,000 visitors every year, and it's easy to see why. A colony of more than 2,000 African penguins live among the rocks, and they're some of the country's most charismatic holiday companions. Also known as jackass penguins, they're a loud and boisterous species that make a distinctive braying noise to attract a mate and reach just 70 centimetres (27.6 inches) in height. They spend most of their time at the seaside, except in September and October, when they're out in the water looking for fish. Jackass penguins are the only penguin species found in Africa and are surprisingly well adapted to the sunny weather. The pink spots above their eyes work like mini radiators, helping to keep them cool by directing blood to the surface of their skin.
The protected beaches are open to families, so you can take the kids down to the boulders and into the sea. You might be lucky enough to see penguins on the ground, but if not then dedicated boardwalks should help you to spot them from above. Each bird has a wing pattern as unique as our fingerprints, so be sure to look out for your favourites if you return to the beach.
Kayak with monkeys on Phi Phi Island
Image: cat_collector/flickr
An hour from Phuket lie Thailand's Phi Phi Islands. With crystal waters and postcard-blue skies, their secluded beaches offer incredible wildlife encounters for adventurous travellers. In a hidden cove a two-hour kayak trip from Loh Dalum Bay, a colony of macaques have set up home beside the water. Cheeky and inquisitive, these wild monkeys are some of the most charismatic beachside residents you could meet. A word of warning though; they are unafraid of humans and they are not always friendly. They may even try to make off with your bag!
Pick up a copy of Issue 61 in store or online to meet even more animals you could be sharing the sand with on your next trip.
Main image: Tambako the Jaguar/flickr