The camera could be back on this famous giraffe pretty soon
On the longest day of the year, World Giraffe Day celebrates Earth's tallest animals. Giraffes are loved the world over, but few have attracted as much attention as April. In spring last year, all eyes were on this female reticulated giraffe as she prepared to give birth at New York's Animal Adventure Park. After waiting with baited breath, over a million people watched the birth of her calf on a live video stream. Tajiri tumbled into internet fame from a height – giraffes give birth standing up, so calves fall six feet to the ground.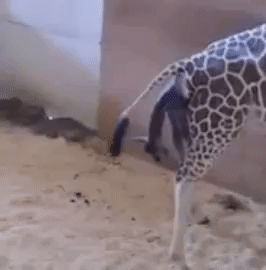 The birth of a calf is cause for celebration, as wild giraffe numbers are plummeting. The species as a whole is classed as 'vulnerable', but some subspecies number in the hundreds are on the verge of being lost. Droughts, trophy hunting, poaching and habitat loss all affect giraffes, and they've been lost from much of their original range.
Now, keepers at the park believe it might soon be time to set the camera up again, because 16-year old April is showing signs of her fifth pregnancy. She's sleeping more than usual and refusing the advances of her mate, Oliver: signs that there might already be a calf developing. Samples of April's droppings have been sent off for analysis, and keepers say that if she's pregnant we'll all be gathering around our computers at the start of 2019.